Matcha Magnificence: A Side-by-side Review of 6 Matchas

If you're reading this now, please note we published this piece two years before introducing our very own line of premium matcha.
At first glance, all matcha might look almost identical, however there is a wealth of variety to be found in their tastes, textures, and aromas.  
There are so many variables in the growing, processing, and finishing of matcha (such as growing region, shading method, cultlivar, etc.), each having a different effect on the finished product.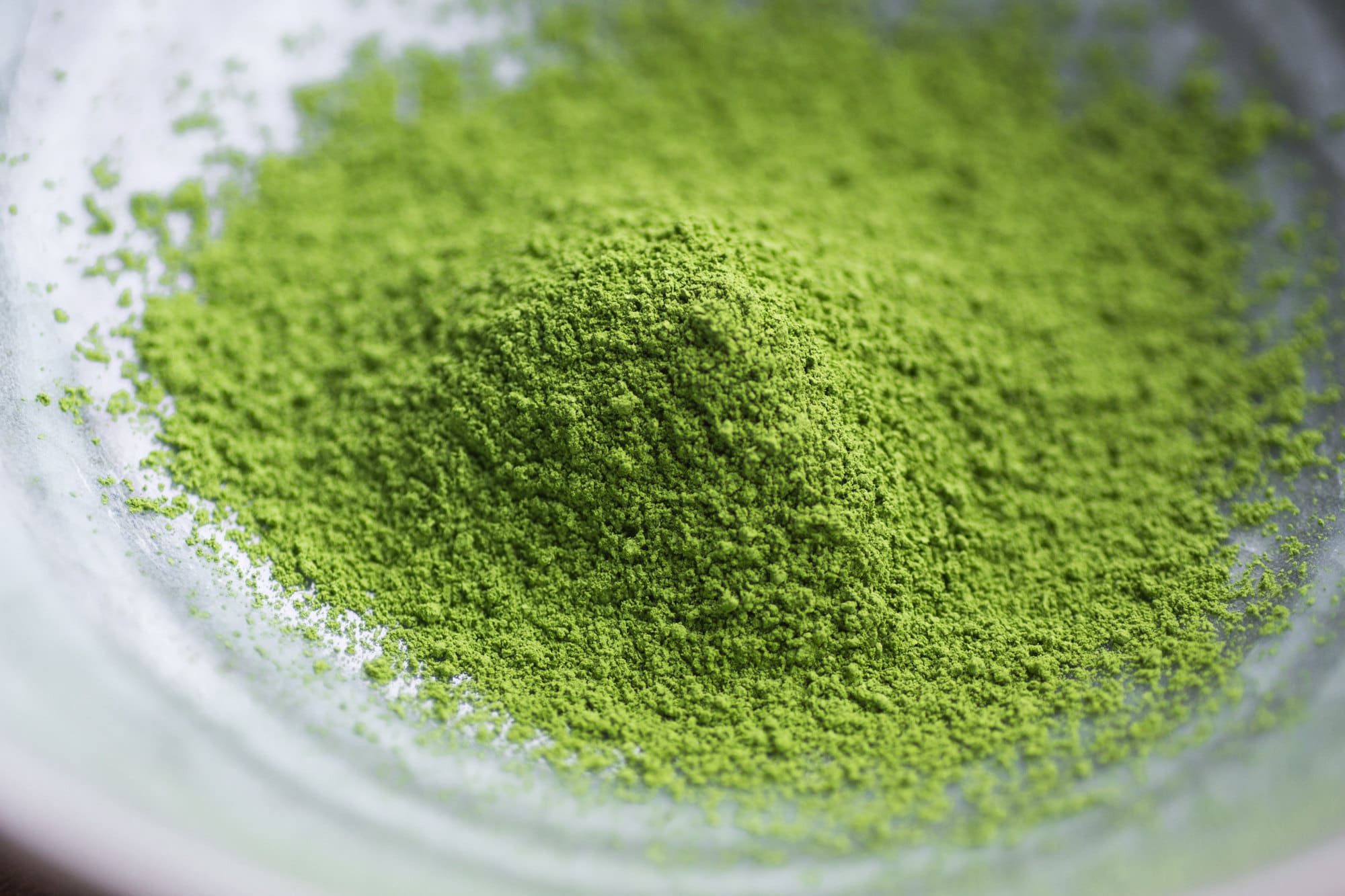 To showcase some of this variety, we picked six different matchas to taste side-by-side (which, in hindsight, was probably too many as the caffeine rush was intense!), focusing on differences in growing region, cultivar, brands, and blend intentions: Susumuya's Koicha Blend, Naoki Seimei's Blend, Ocha&Co.'s Uji Okumidori Matcha, Ippodo's Sansho-no-Shiro, Ippodo's Kyougoku-no-Mukashi, and Ippodo's Kitano-no-Mukashi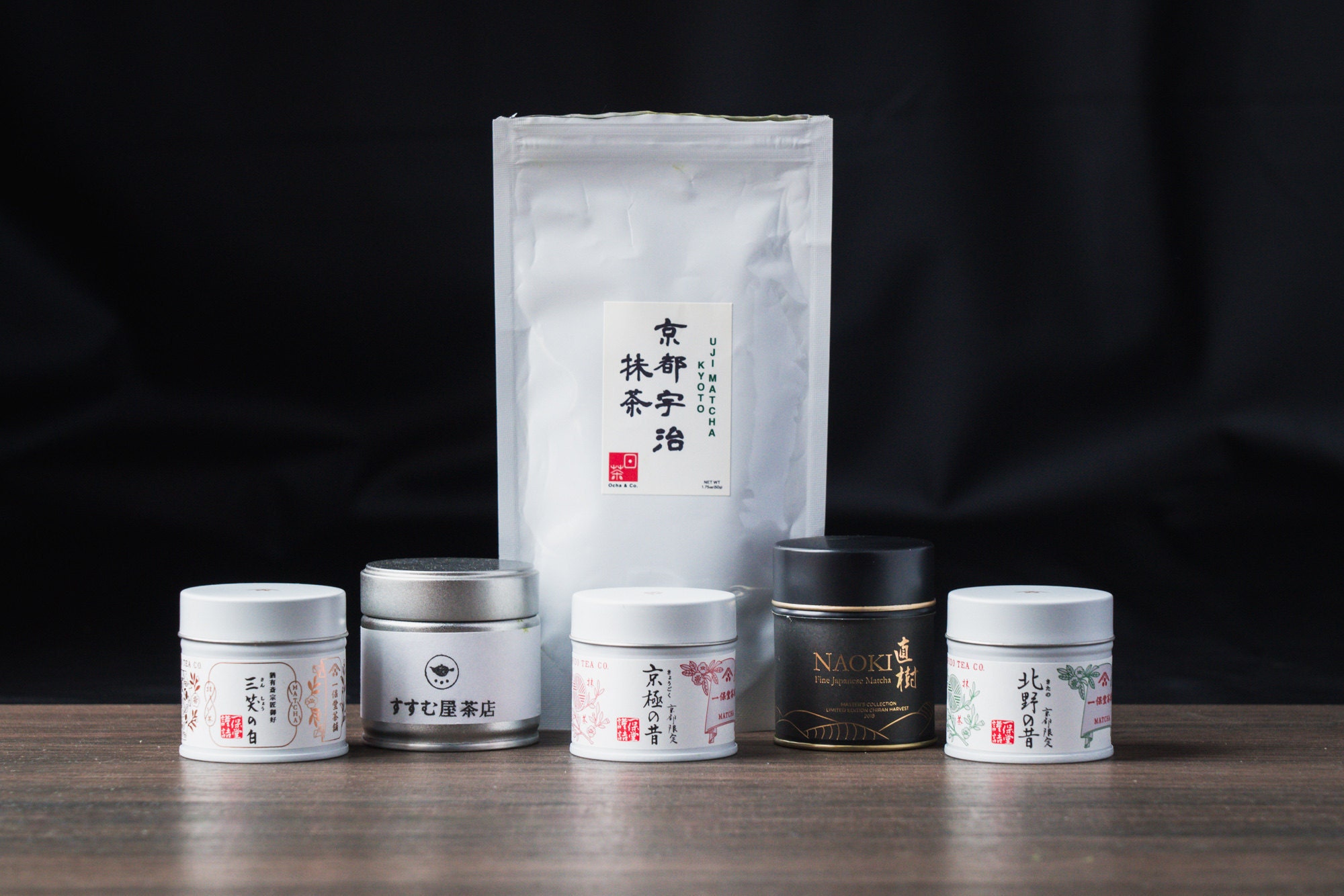 Each matcha we tried came as 20g in a sealed bag inside a metal tin, with the exception of Ocha&Co.'s Okumidori matcha which came as 50g in a resealable bag.  
These six bowls of matcha were made to our standard usucha parameters (which you can find ).
Susumuya Koicha Blend
Susumuya is a tea company based in Kagoshima on Kyushu, the southernmost main island of Japan. As Kyushu has a  warmer climate than other tea growing regions of Japan, different cultivars are used and tea is generally harvested earlier. 
This Kagoshima matcha has a very bright, creamy taste, with a pleasant and mild tongue tip astringency. Being marketed as a matcha suitable for koicha (thick tea), it was exquisitely made, boasting a beautiful emerald cup color and a creamy texture.
Naoki Seimei Blend
Staying in Kagoshima, this Seimei-based blend from Chiran has a smooth, slightly sweet taste with lots of brightness towards the front of the mouth. Like Susumuya's offering it had a lovely, creamy texture. This is a very unique matcha, highlighting the newly registered Seimei cultivar, which is being praised for its high yield and brilliant cup colour. 
We're looking forward to trying more teas made from this exciting new cultivar. (For more about this cultivar, see  report from the National Agriculture and Food Organization of Japan).
Ocha&Co. Uji Okumidori 
Moving up north to Uji near Kyoto, we have this single cultivar Okumidori matcha. Tea has been grown in Uji, and the Kyoto region in general, as early as the 15th century, and since then has garnered an immense reputation as being among the highest quality tea in Japan. Immediately, we noticed a drastic shift in taste profiles when compared to the Kagoshima matchas, moving well away from bright top notes towards an emphasis of a very deep, vegetal, nutty umami. 
Being a single cultivar matcha, it lacks some of the roundness and polish of the other matchas, but remains very characterful. Single cultivar and single origin tea is a relatively new trend in Japan, with the traditional practice being to blend teas of multiple cultivars from multiple farmers to create a balanced and consistent product. Conversely, single origin and especially single cultivar teas favour transparency instead of balance, showing the full character of the plant, the soil, and the farmers' skills.
Ippodo Sansho-no-Shiro
Now we move on to Ippodo's offerings. Founded in 1717, Ippodo is one of the most recognisable names in the Japanese tea industry, known for their consistency and high quality. Like the Okumidori matcha, this was also from the Kyoto area and as a result had a similar taste profile, featuring that same nutty umami, but was more balanced overall. We felt that out of three Ippodo matchas we tried today, this had the most prototypical 'Kyoto' taste. 
Ippodo Kyougoku-no-Mukashi
One of Ippodo's Kyoto store exclusive matchas, this also retained that deep, nutty umami we encounter in Sansho-no-shiro, but offset it with a hint of sharpness and brightness, producing an overall richer experience. 
Ippodo Kitano-no-Mukashi
Lastly, we tried Ippodo's other Kyoto-exclusive matcha and were impressed by how balanced and smooth it was. It managed to simultaneously be very intense but have absolutely no harshness to it at all, instead remaining very round and balanced with a completely smooth and central taste. It truly had a refined and elegant taste, which is a testament to the skill of the blenders at Ippodo.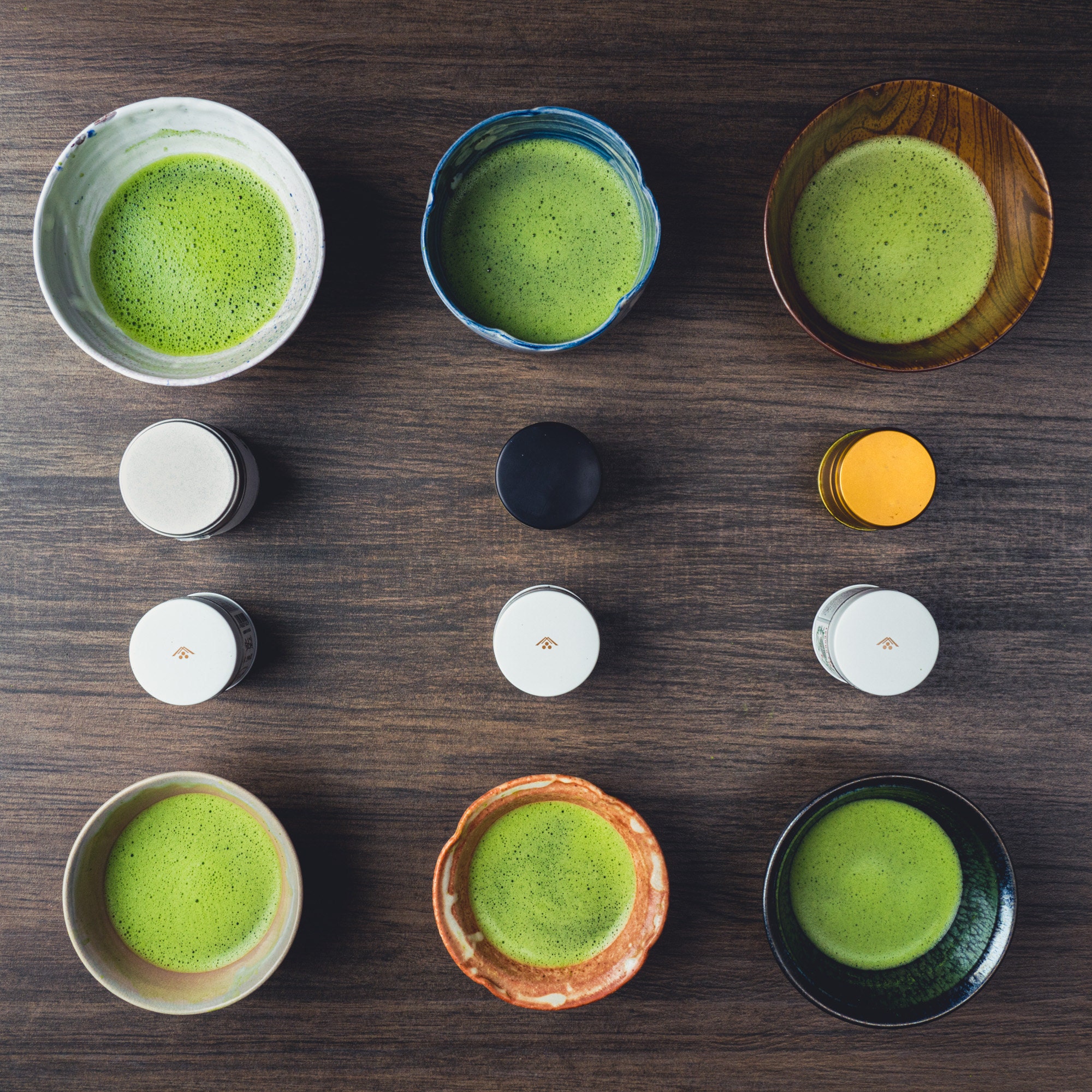 : Susumuya Koicha Blend, Naoki Seimei Blend, Ocha&Co. Uji Okumidori
: Ippodo Sansho-no-Shiro, Ippodo Kyougoku-no-Mukashi, Ippodo Kitano-no-Mukashi
Despite the vast differences we encountered with these six teas, there is still so much to explore in the world of matcha!
---
Matcha
Taste bold, complex, and super flavourful matcha from artisanal Japanese tea producers
Sip with us
Teaware
Find a unique matcha bowl and tea ceremony accessories you'll love using every day
Browse our shelves